LS XGB PLC
ENET, ENET I/P
Serial, CANOpen
Profibus-DP, DeviceNet
from $69
High-density Terminal Boards
Smart Link I/O Cables
from $19
Programming Cables
Memory Module
User Manuals
from $6
XGB Programmable Logic Controllers
PRODUCT FEATURES

OVERVIEW

EXPANSION
SOFTWARE

KNOWLEDGE BASE

XGB supports simple control systems to complex tasks offering maximum performance at minimum cost with high functionality.

User-oriented integrated control through strong and versatile communication functions, XGB PLCs can be used for many applications and processes.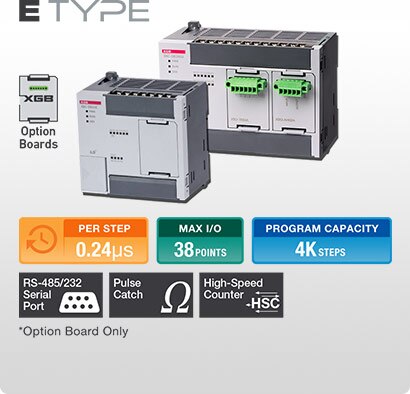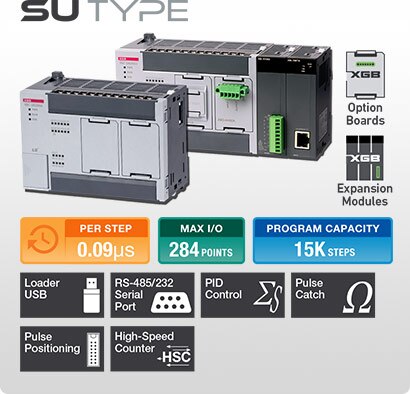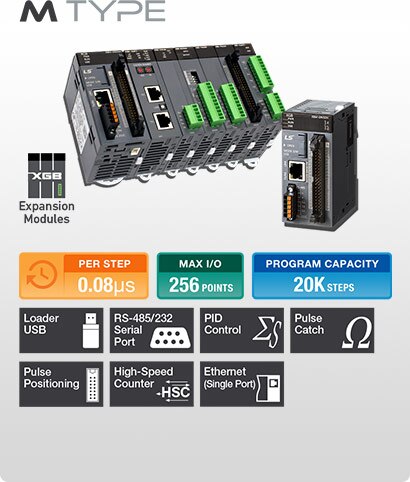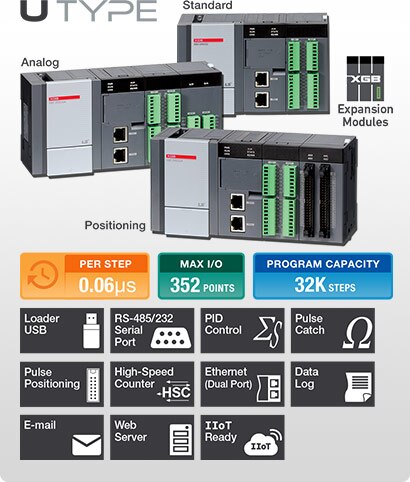 ---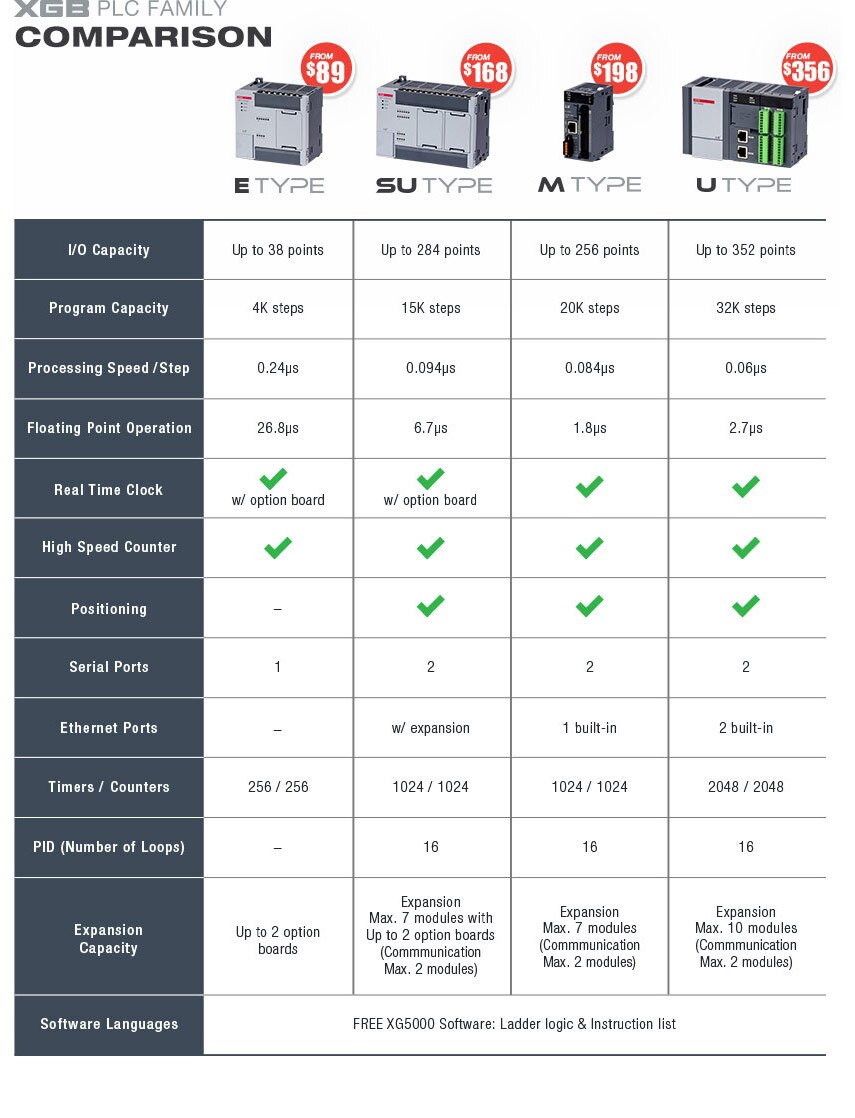 XGB offers a wide variety of I/O modules allowing for application expansion. Expansion modules connect and separate easily for custom functions.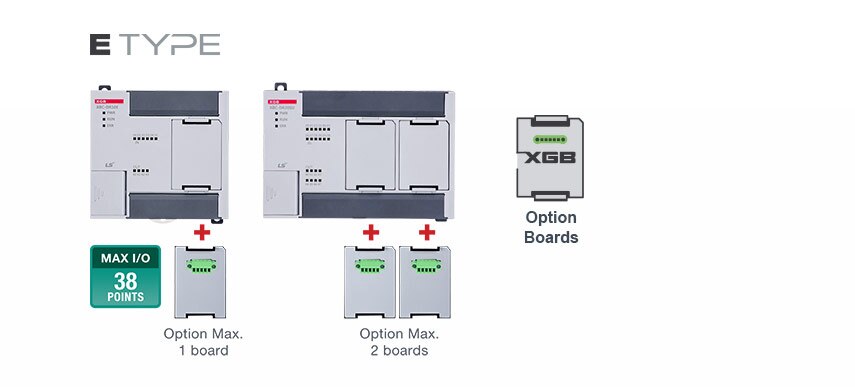 ---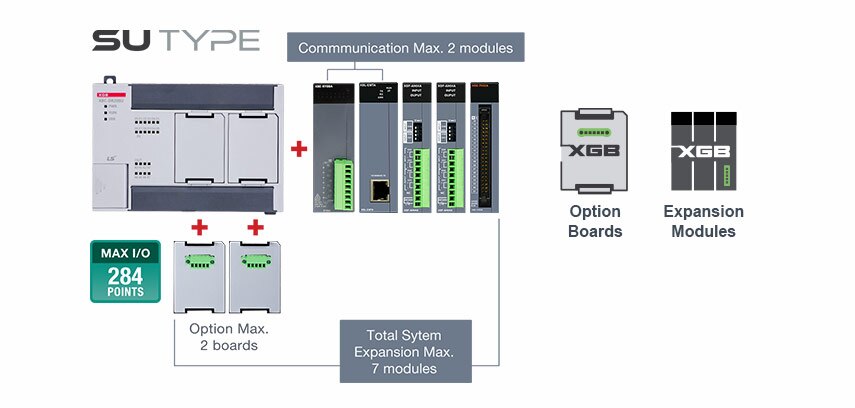 ---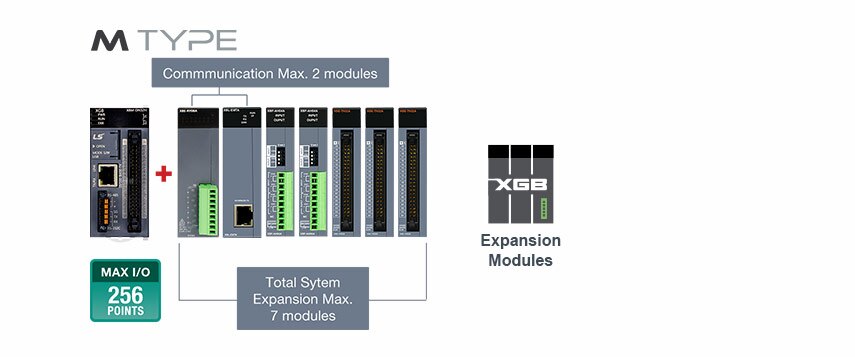 ---
---

Option Boards
• Memory Module
• Real Time Clock
• DC Input (Sink/Source)/HSC 4 Channel
• Transistor Output (Sink)
• Voltage/Current Analog In 2 Channel
• Voltage/Current Analog Out 2 Channel
• Voltage/Current In/Out Combo Analog
• RTD 1 Channel
• Thermocouple Input 2 Channel

Expansion Modules
• Discrete DC Input (Sink/Source)
• Discrete Transistor Output (Sink)
• Relay Output
• Analog Input
• Analog Output
• Analog Combo
• Thermocouple & RTD Temperature
• Positioning
• High Speed Counter
• Temperature Controller
• RS232/RS422/RS485 Serial Connection
• Ethernet (LS, Modbus TCP Client & Server)
• Ethernet IP Module
• Profibus DP Module®
• DeviceNet Slave Module
• CANopen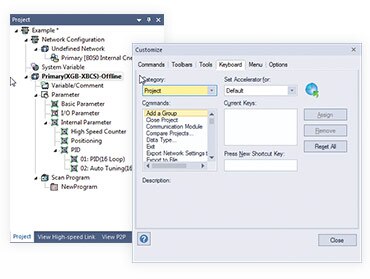 Enhanced Programming Tools
MPMP (Multi-PLC Multi-Programming):
Different PLC systems can be edited, monitored, and managed simultaneously in one project.

Drag & Drop
Available in project, variable/comment, ladder diagram editing and monitoring.

User-Defined Shortcut Keys
Increase editing convenience.
---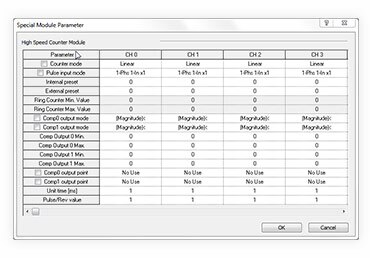 Special Module Monitoring
Various special modules can be monitored and test-runs performed.
---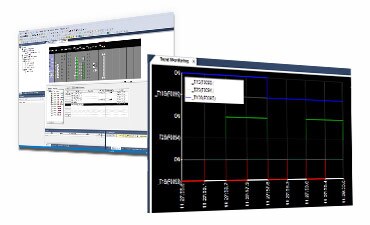 Trend Monitoring
Changing values of specific devices can be monitored and saved as files.

Convenient Program Editing
• Compatible with Microsoft Excel
• Program both ladder logic or instruction list
• Redo and Undo (unlimited)
• Segment screen edit
---
---