HMI Touch Screens
---
PRODUCT FEATURES

OVERVIEW

CONNECTIONS
SOFTWARE

KNOWLEDGE BASE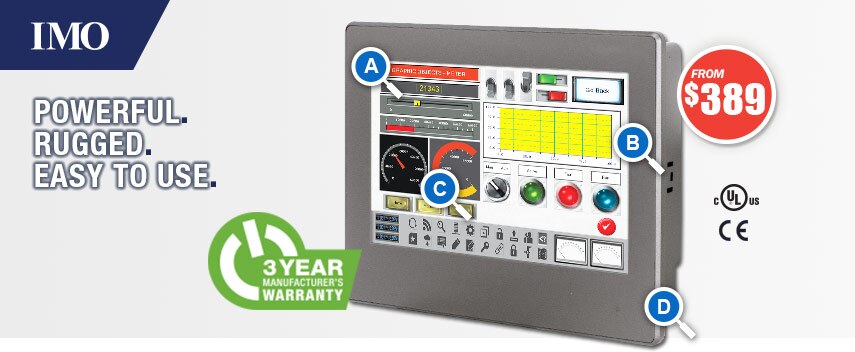 HIGH RESOLUTION DISPLAYS
Bright and easy to see TFT Screen with 65K colors
Unlimited touch points allows for objects to be interacted with anywhere on the screen
Resistive touchscreen allows operator to use the panel when wearing gloves

IP66 INGRESS PROTECTION
Dust proof and water resistant. Capable of withstanding powerful wash-down and a wide temperature range
Ambient temperature range from 14°F to 140°F

OVER 380 PROTOCOLS
Connect a vast range of PLCs and controllers from numerous manufacturers

BEZEL OPTIONS
Choose between a rugged plastic bezel or sleek food grade aluminum bezel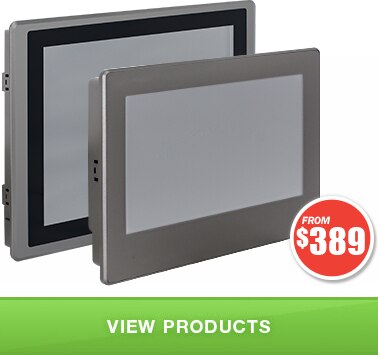 M Series
Features
Built-in Ethernet port with FTP functionality
Automatically receive email updates for system events and logs
Remote control and monitoring through a VNC communication – just like being in front of the touch screen – without actually being there
Data/Operation/Alarm Logging

Alarms and gathered data can be stored in the iView or coped out to an external device as a CSV for easy review

Real Time Clock

Useful for time based events and automatic compiling of datalogs

Bright and easy to see screens
Rugged Plastic or Sleek Aluminum Bezel
IP66 Rated
---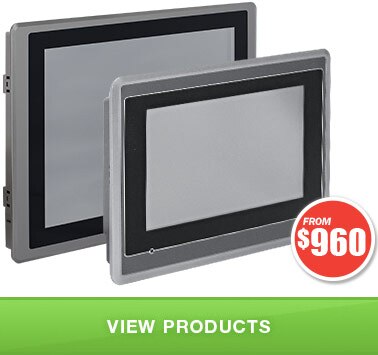 H Series
Features
Standard robust Aluminum Bezel
Exceptional 4X Processing Speed

Capable of handling a large number of project screens
Simultaneously connect to multiple PLCs with a large amount of I/O polling
Simultaneously use multiple communication protocols
Use many complex scripts and macros
Playback on-board video with audio output

Expansive 32X System Memory
Audio output and Video playback available on select models
---
Multiple data storage options to choose from
System Storage memory can be expanded with use of USB drives and MicroSD cards

Up to 16GB of additional data supported on a MicroSD card. USB capacity has no limit

Store videos and other large files on the SD card or USB drive for play back on the HMI
Use USB drives and MicroSD cards to quickly and easily transfer data logs from the iView to a computer for review when other connections are not available
---
What is an HMI Touch Panel?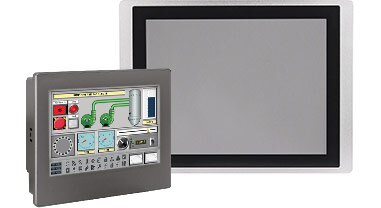 A Human-Machine Interface (HMI) touch panel device is simply an interface between a user and a machine or control system in a manufacturing process. More specifically, an HMI screen depicts a textual, graphical, and/or visual representation of the status of a control system by collecting, recording, and displaying data in real-time.
---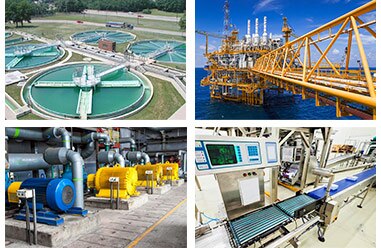 HMI touch panels are closely associated with industrial and mechanical process control systems, and can be used in industries including, but not limited to: motion control, packaging machinery, food processing, pump control, water & wastewater treatment, oil & gas, vehicle management, environmental control, alarm systems, building management, etc.
Depending on the project environment and application, HMI touch panels can:
Connect, monitor, and control machines/processes (i.e. speed, efficiency, error detection, error correction)
Provide status reports
Execute event logging/triggering (i.e. alarm conditions)
Provide video feed for status monitoring
Display system conditions/operations
Display vital information that would be absent with simple pushbutton panels or switch banks
---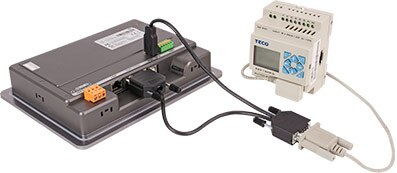 For a machine or manufacturing line to be connected to an HMI touch screen, it must first be connected to a device such as a programmable logic controller (PLC), variable frequency drive (VFD), or other controller. The PLC, VFD, or other controller collects the information from the machine sensors and then formats the data to create a message that can communicate with the HMI touch panel to allow for it to interpret and display the information provided.

---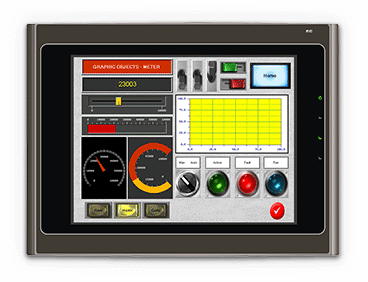 The main advantages of using HMI touch screen device are: high quality visuals of machine/production processes, improvements in communication amongst equipment in a production line, mainstreaming industrial systems by using an HMI in the place of using push buttons, LED lights, selectors, etc., and detection of system/equipment malfunctions through indicators and alarms present in HMI panel programming.

Overall, the main goal in using an HMI touch panel device is to create a user interface that allows for efficient and user-friendly control of devices or production lines to provide optimal outputs in an automotive or industrial setting.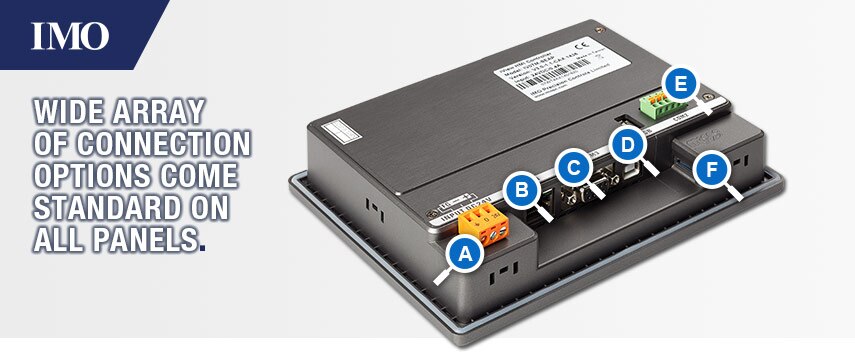 PLUG IN POWER TERMINAL
Allows for easy installation into enclosure

ETHERNET PORT
Allows for remote connectivity for programming, control, and monitoring

HIGH-SPEED SERIAL PORTS
Two COM ports in a single DB9 connector
RS232, RS422, and RS485 are all supported

2 USB PORTS
USB Type A for peripherals such as mice, keyboards, and barcode scanners.
USB Type B for HMI programming.

5-PIN HIGH-SPEED SERIAL TERMINAL
Screwless plug in port for easy wiring and installation
Supports RS485 or RS232

MicroSD SLOT
Allows for expansion of storage space up to an additional 16GB.
Easily remove card for reprogramming or to transfer data logs.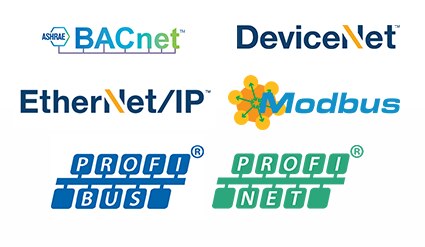 Over 380 supported PLCs and Controllers from a wide range of manufacturers
Supports top manufacturers such as:

Allen Bradley/Rockwell Automation, GE Corporation, Honeywell, Idec Corporation, Mitsubishi Electric Corporation, Omron Corporation, Panasonic Corporation, and Siemens AG

Full list of drivers can be found here:
http://factorymation.info/opint/iView_Protocol_List.pdf
---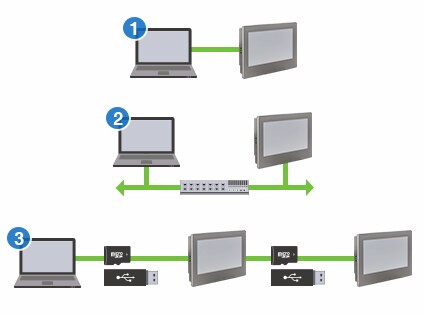 Programming Connections
Program using a direct link between HMI and PC using USB or Ethernet
Program remotely using a link between the HMI and PC using Ethernet and a network switch
Copy program from USB drive or MicroSD card to the panel directly. No need for a PC
---

Using iView in Direct Communication
Directly connect the iView to a PLC or other controller for quick and easy process control
---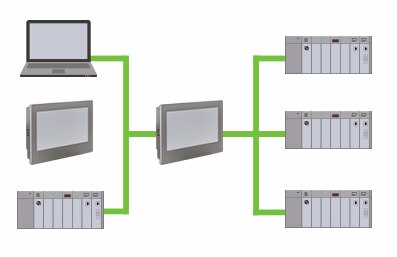 Using iView as a Gateway Device
Connect a single iView to multiple different devices from different manufacturers and use as a protocol gateway
This can be especially useful to allow a PC to communicate with devices not ordinarily capable of doing so
---

Communication Utilities using built-in web server (VNC) and FTP
See exactly what the touch panel is currently displaying and interact with it as if you were standing there. Works with almost any networked device using a VNC viewer
Download a free VNC app here:
https://www.realvnc.com/download/vnc/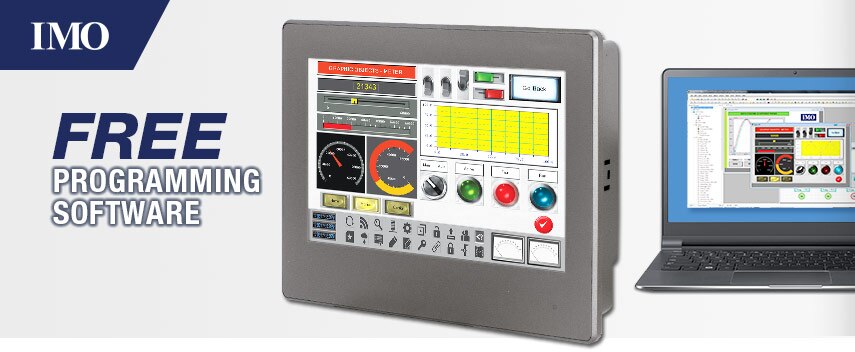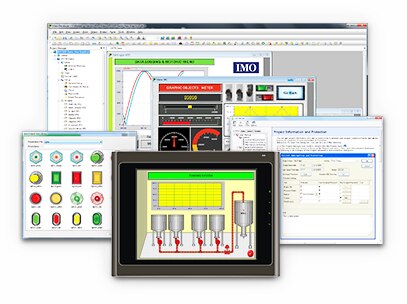 iView Deleveloper - Free Programming Software
The iView Developer is a powerful and easy to use program that features a drag and drop interface to quickly get your application off the ground.
Run simulations without the need for a panel to be connected.
No license fee, no registration, no expiration. iView Developer is free and yours to keep. Download and install the full version to try it for yourself before purchasing a panel.
Use Product Key Below to Register Software:

CT28-R6XR-GM7Y-R6F9-RKKM-WFGX
---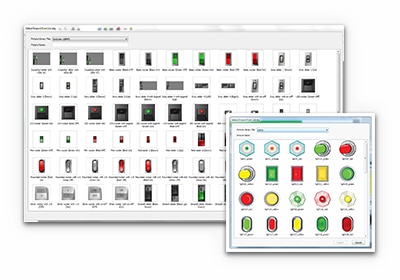 Objects and Images
Thousands of built-in, high quality, scalable graphics

Simply drag and drop your graphic where you want it then resize it as you see fit. A convenient grid is provided for ease of alignment and sizing.

Fully customizable meters, buttons, graphs and more

Change color schemes, set transparencies, display or hide scales, set visibility based on system events, and more

Use animation paths to have objects move on screen to illustrate product movement through the factory.
---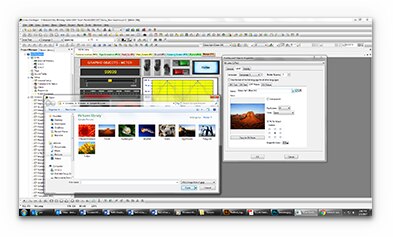 Wide open design options.
Don't like what's built-in? Use your own!
Import your own images for unlimited possibilities
Use any font installed on your PC for nearly countless options in type
---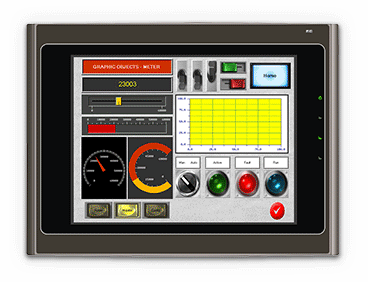 Offline Simulation
Develop a program and simulate it without connecting to a panel

iView developer doesn't require a panel to be connected in order to simulate an application. Since our software is free to download you can test your application before purchasing a panel!

Detailed compilation log to help you find errors in your application

Nothing is more frustrating than having your application fail to compile. iView developer however makes it easier to find those errors by giving you detailed descriptions in the compilation log. Screen number, X-Y position, and reason for failure are provided for each error so you can easily track them down

Simulation behaves exactly like the real thing.

Change operators, input values, and navigate screens using a clickable interface
Fully test your application before putting it to work in the field
Use the online simulation mode to test for errors in connections to devices
---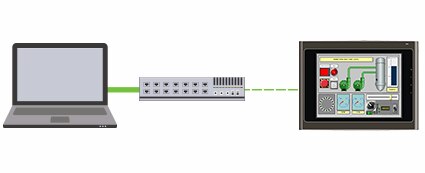 Remote Programming
Alter HMI programming using USB, MicroSD, or FTP file transfer

Storing the program file on a USB disk or SD card allows you to update the panel application without needing a computer
You can also copy the existing program from one iView to another

Upload/Download an HMI program remotely with a network connection

By using the Ethernet connection on the iView you can upload or download an application to the panel from a remote location
---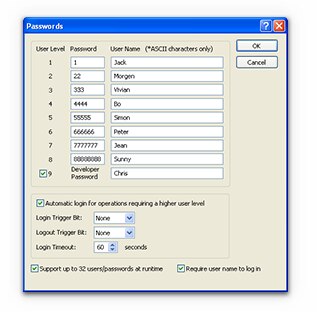 Password Protection
Secure panels from unwanted changes to designs, macros, and upload/download operations using passwords
Password levels can be assigned to any input object to prevent unauthorized users from making changes

There are 9 password levels that can be assigned to objects including one developer password. You can also assign a username to them to track changes made
A user with a higher level automatically has access to all the functions of the levels below

Log files of users and their associated actions can be created and stored for later review
---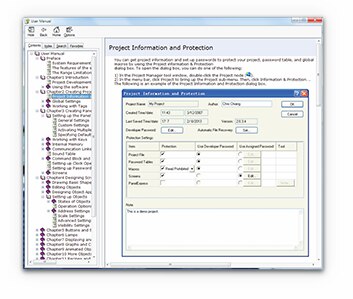 Helpful Documentation
An extensive and comprehensive help file is available within the program and online

Images and diagrams combined with easy to follow instructions make learning the iView Developer a breeze

Also see our knowledge base for more information and tutorial videos explaining various features and functions of the iView software
---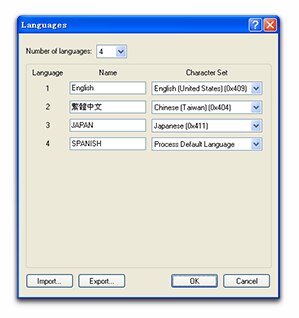 Multi-language Support
Enables worldwide integration and operation
Choose from dozens of language character sets and switch between them on the fly
---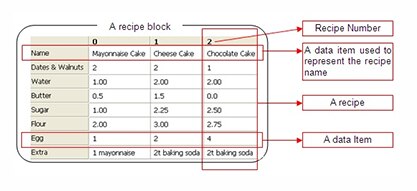 Recipe Function
Make numerous changes to tags and values with the tap of a button

Recipes are preset blocks of data that allow for multiple products to be created using a single machine or production line. By changing recipes a user can quickly switch from, as an example, bagging 5 pounds of cake mix to bagging 3 pounds of biscuit mix

Enough storage for over 1 million individual recipes
---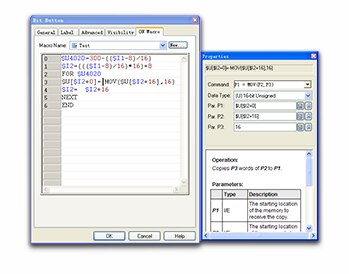 Scripting and Macros
Create macros by easily writing your own scripts to achieve automatic changes
Macros can be nested within your code to modularize your functions for easy maintenance and future alteration
Macros can be triggered by a multitude of events ranging from when an object is pressed to after a certain amount of time has elapsed
No prior coding experience required! Detailed descriptions of each function are displayed in the function library
Combine Macros with the Event Processor to allow the HMI to make changes according to monitored conditions
---
Tagging
Easily assign custom tags to parameters for easier programming

By assigning tags to registers you can name them for ease of use later when programming
In the software, a tag can have multiple names with same data type and settings which are called aliases
---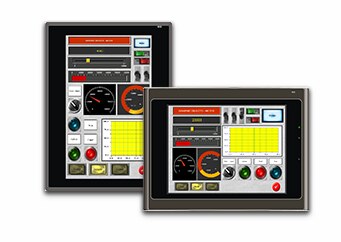 Portrait or Landscape Modes
The iView can be easily mounted horizontally or vertically. Simply choose your orientation in the application settings and iView Developer will automatically rotate the workspace to fit