AC Motors by Frame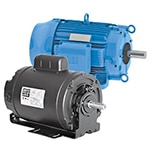 An AC motor's frame size refers to the size of the mounting footprint, shaft diameter, and shaft length. These frame sizes are standardized classifications that remain the same across different manufacturers.


We offer a comprehensive selection of AC motor frame sizes in an effort to suit your application's needs..

What does frame size reference?
The codes representing frame size for AC motors represent the shaft length, shaft diameter, and mounting footprint. Taking two motors from different manufacturers with the same frame size should give you two motors compatible in regards to those three aspects.
---
Frame Size on the Nameplate
---

How do I read frame sizes?

Frame sizes are made of numbers and may often include letters. View AC Motor Frame Dimensions to see a more in-depth look behind each frame size.
---
Other Considerations
Voltage
Your chosen motor's voltage should match the supply voltage available to you. Motors typically have more than one possible voltage depending on how they are wired. .
Revolutions Per Minute (RPM)
RPM represents the speed of the motor. The rated RPM is specific to the frequency stated on the motor's nameplate, and a different frequency will produce different results.
Horsepower (HP)
Horsepower is a measure of the rate at which mechanical energy is expended and corresponds to the motor's RPM. For your application, this means how much work is completed by the motor (such as how much material it can move and at what speed).
---