AC Drives
PRODUCT FEATURES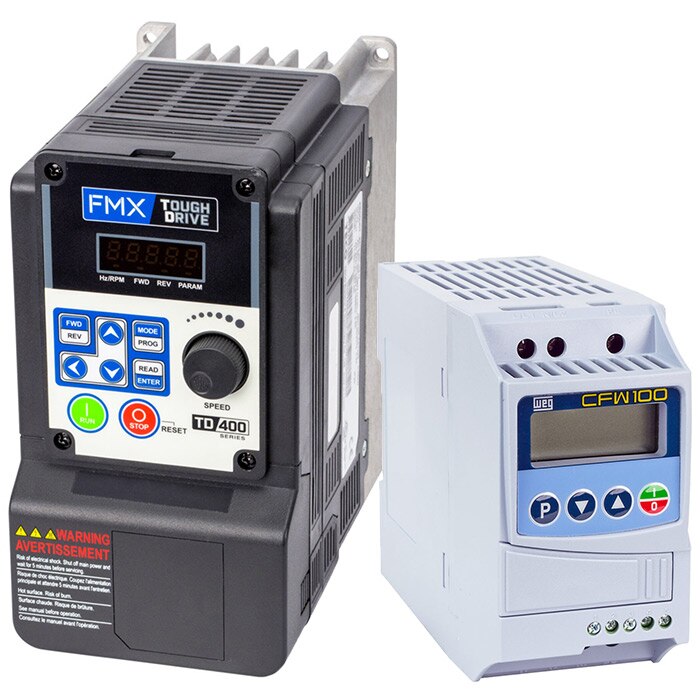 FactoryMation AC Drives from TECO and WEG that give many options to fit all your application needs. Various VFD are available in IP20, Type 1, and Type 4 chassis. These units can be selected according to your application requirements.
Common Applications
Extruders
Conveyor belts
Roller tables
Fans / Exhausters
Centrifugal pumps
Granulators / Palletizers
Dryers and rotary ovens
Process dosing pumps
Stirrers / Mixers
Rotary filters
Winding machines / Uncoiling machines
Benefits of using AC drives:
Variable speed control of 3-phase AC motors
Adjustable acceleration and deceleration
Electronic overload protection for AC motor
Control three-phase motor with single-phase input power*
Improve power factor
Reduce peak inrush currents

* Derating required for units 5HP and above (call for details).
1 to 40HP
230V or 460V Models
(Discontinued, Limited Stock Available)
From $444
1 to 75HP
230V or 460V Models
Open Style or Type 1 Enclosed

from $17
1 to 200HP
230V or 460V Models
Open Chassis, Type 1, or Type 3R

from $114