Cord Grips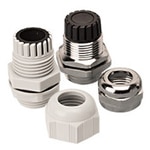 Cord Grips allow for liquid-tight connections for cables. Available cord grips are either metal or nylon. These grips are available in a variety of sizes. Both types feature NPT threading, and Nylon grips also have available Metric or PG threading.
Specifications
Choice of Metal or Nylon
Rated IP68/IP69K (when properly installed)
Liquid-tight connections
Come with lock nut and washer
Thread Sizes: NPT ¼" to 1 ½", M20x1.5, PG16 (Depending on material)
---
Cable Diameters

Metal Grip: 0.08-0.20" min, 0.87-1.26" max
Nylon Grip: 0.16-0.31" min, 0.87-1.26" max


---
What is NPT?

NPT means "National Pipe Tapered," and it is a standard for measuring tapered threads in the United States. Tapered threads made a tighter seal.

---
Application

Cord grips provide liquid-tight connections for your cables. They enable electrical cables to pass through to the inside of a control panel or other enclosure.

---
NPT Thread
0.08" to 1.26" Wire Range


from $6.50
NPT, Metric, or PG Thread
0.16" to 1.26" Wire Range


from $1.50