Photoelectric Sensors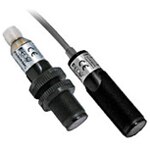 Photoelectric Sensors utilize an emitter to project a beam into a receiver, detecting the presence or absence of an object based on whether or not the sensing beam is interrupted. These sensors are available in diffuse, polarized reflective, and through-beam varieties.
What are Photoelectric Sensors?
Photoelectric sensors use the light emission principle, electronic properties, and an emitter or luminous source. The light rays of the luminous source are detected by a receiver. The variation in luminous signal, obtained when interrupting this ray, is converted into an electrical signal, and is measured and used by an electrical circuit.
The light being used is either infrared or red. By making use of this light, various types of photoelectric sensors can be made.
The AECO photoelectric sensors available are the FT18 and FTQSP series with direct reflection that offer versions with reflector with polarized light or emitter-receiver. Due to their flexibility regarding the various standard and programmable versions, these products are easily interchangeable with most of the units available on the market.
RELATED LINKS
AECO Photoelectric Sensors Catalog
---
How are Photoelectric Sensors Used?
Photoelectric sensors are commonly used in the automation field to check for presence/absence, counting, position control, etc. of objects. Additionally, these sensors are compatible with most common logic controllers. Photoelectric sensors can also be used to:
Detect changes in a target's color, contrast and luminescence
Detect porous targets, and invisible markings on products
Detect the level of contents in a hopper
Check passage of an object
Detect missing parts on objects
---
What Type of Photoelectric Sensor to Choose?
---
Where are Photoelectric Sensors Used?
Photoelectric sensor technology can be applied to a variety of products and technological applications. For example, photoelectric sensors are commonly used in:
Control of opening and closing of garage doors
Turn on sink faucets with the wave of a hand
Control elevators
Open automatic doors at the grocery store
---
Diffuse, Reflective, Polarized, or
Through-beam
NPN or PNP

from $25.40
Diffuse, Reflective, Polarized, or
Through-beam
NPN or PNP

from $66.10