Modular Enclosures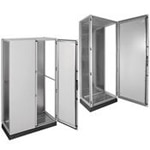 Modular electrical enclosure systems are floor-mounted steel enclosures available in a variety of UL Types including Types 4, 12, and 13. These enclosures provide flexibility in design alongside more accessory options that other enclosure varieties. One door and two door options are available. The modular design means the individual enclosures can be combined to create as big of an electrical enclosure assembly as is practical for your application and facility.
UL Type 3R & 12
For Flange-mounted Disconnect
72 x 40 x 18" to 84 x 78 x 24"
from $1,643