Theres been an internal error
Custom Motor Control Panels
---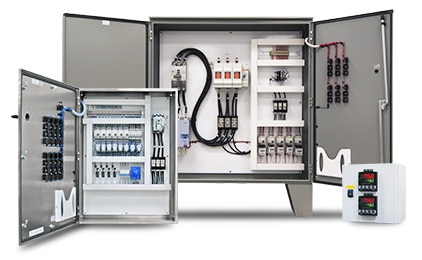 FactoryMation Panel Shop Advantages
The FactoryMation Panel Shop can design and fabricate an extensive variety of control panels ranging from small motor starter panels to advanced motor control centers. Our engineers can assist in the development of designs based on customer requirements and/or customer supplied drawings. In-stock components mean even custom panels are completed with industry leading build times.


---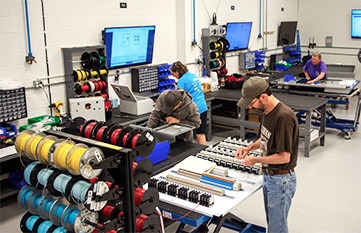 Built to Your Specifications

Even completely customized built-to-order control panels are delivered with the fastest time possible due to a combination of experienced panel builders and a large stock of industrial control products.

Our control panel design team works with customers to ensure that the customized control panel meets the exact specifications needed for the given application. Schematics are provided as necessary to verify that the design is acceptable and to guarantee that the panel shop gets it right the first time.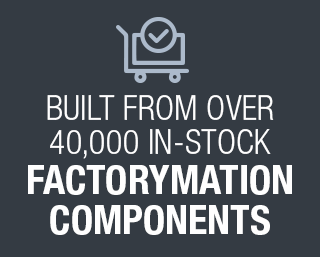 Modified/Custom Motor Control Panels
FactoryMation is capable of providing modifications to standard control panel designs as well as complete custom designs & builds. A vast selection of industrial enclosures and controls are in-stock allowing for industry-leading build and delivery times…even on custom builds!

Variable Speed AC Drive Panels

Pump Controllers
- Simplex
- Duplex

Reduced Voltage Starters
- Across-the-line
- Part Winding
- Star Delta (Delta-Wye)

Bypass Panels

Operator Consoles and Panels

Enclosed Contactors

Enclosed Fused and Non-Fused

Disconnect Switches

Enclosed Circuit Breaker

Junction/Terminal Boxes
NOTE: UL508A Certification for Enclosed Industrial Control Panels is available as an additional service. Please call for quotation.
---

Custom Control Panel Features

Expert Design
Our expert panel building team custom builds each panel using FactoryMation components and according to customer specifications.

Various Types of Panel Builds
The panel shop takes on a variety of orders from small single panel builds to large multi-panel projects. Our panel builders will build panels for applications of virtually any size.

Built from In-stock Components
We stock more than 40,000 parts at any given time. This large stock enables shorter turnaround on orders.

Panels Inspected for Quality
Each build is carefully inspected by our team to ensure it meets strict industry standards. We are a UL-certified panel builder so we can also deliver a UL-certified panel when required by project specifications.
NOTE: UL508A Certification for Enclosed Industrial Control Panels is available as an additional service. Please call for quotation.

Industry Leading Turnaround
Most custom panel builds ship within 5 to 7 business days after drawing approval thanks to experienced panel builders, a modern shop, and in-stock parts.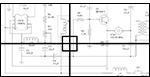 Convenient Drawings & Labels
Detailed schematic drawings and component/wire labeling for ease of maintenance and troubleshooting
---

How to Get Started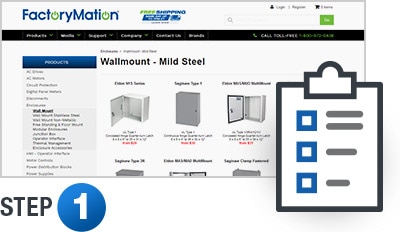 Submit your request via the custom panel build form here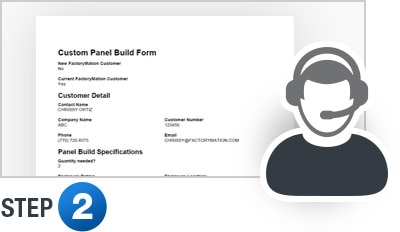 Our custom panel design team will contact you to confirm project specifications and cover additional questions.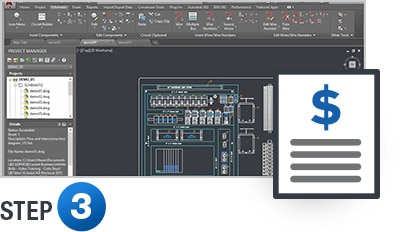 We will build and submit a quote for your approval based on your specifications.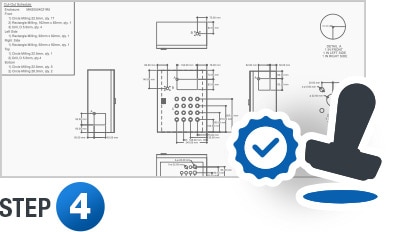 Once you approve the quote and place your sales order, we take your specifications and turn them into a full layout drawing and electrical schematic. These are then submitted for your approval.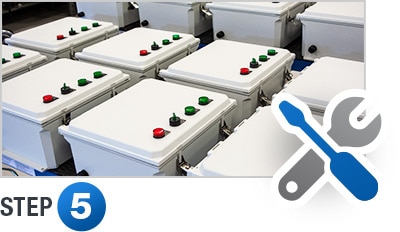 Once you approve drawings, the custom control panel project enters production and is completed with industry-leading times.