Wallmount - Stainless Steel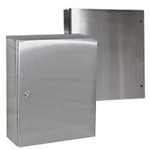 Stainless Steel enclosures are extremely durable. Unlike regular steel enclosures, stainless steel enclosures offer corrosion resistance that makes them suitable for harsh applications where chemicals or mild abrasives may be utilized.
UL Type 4X/12/13
Concealed Hinge Quarter-turn Latch
17 x 9 x 6" to 56 x 32 x 12"

from $614.70