Inductive Proximity Sensors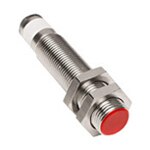 Inductive Proximity Sensors detect when ferrous metals are in the proximity of the sensing area. These sensors will remain active until a ferrous metal is present in the sensing area and then deactivate once the material enters the target area. The sensor's detection area increases as the size of the sensor increases.
What are Inductive Sensors?
Inductive proximity sensors function so that ferrous metals in the proximity of the active surface (sensing area) will produce oscillations that lead to a change of state. Unlike a capacitive proximity sensor that oscillates when the target is present, an inductive proximity sensor oscillates until the target is present.
By applying a voltage to the oscillator coil, an alternating inductive field is created in front of the active surface (sensing area) of the unit. When a metallic object (e.g. steel, aluminum, copper, brass etc.) enters the sensing field from any direction, it causes the state of the oscillator to be modified until the threshold trigger is inverted. This induces a change in the condition of the final stage and the consequent command of an external load.
In inductive ring sensors, sensing is made within the ring itself. The sensor is activated when a metallic object is introduced within it. When choosing an inductive ring sensor, select a size based on the minimum hole diameter required.
RELATED LINKS
AECO Inductive Proximity Sensors Catalog
---
How are Inductive Sensors Used?
Inductive sensors have wide uses in many applications, some of which involve difficult working conditions that may use oils, powders, liquids, and vibrations that do not have any effect on the sensors' secure functioning. AECO's inductive proximity sensors can also be used in the automobile industry and in all applications where solutions for automation are required. Aeco's inductive proximity ring sensors are particularly advantageous for:
Detection of small metal objects (e.g. screws, nuts, washers etc...)
Detection of breaks in continuous metal wires that pass through it
---
Things to Consider
When Choosing an Inductive Sensor
When selecting an inductive proximity sensor, it is suggested to take into consideration:
Sensing distance
Housing (shielded or unshielded)
Output type
Material (plastic or metal)
Shape (cylindrical or rectangular)
The sensing distance depends on the type of metal and the thickness of the material. The main advantages offered by proximity sensors in relation to normal limit switches are:
Mainly unlimited duration since they have no moving parts (wheels, springs etc...)
Lack of maintenance required
Elimination of possible false contacts from contact movement
---
Where are Inductive Sensors Used?
Inductive proximity sensor technology can be applied to a variety of products and mechanical, industrial, or technological applications. For example, AECO's inductive sensors can be mounted on:
Machine tools
Textile machines
Transfer lines
Transport systems
Packaging equipment
---