Theres been an internal error
Auer Signal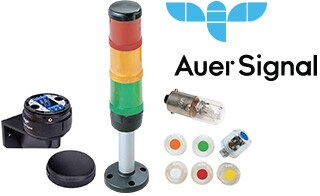 Product Selection
Auer Signal utilizes their long history of engineering excellence and innovative product design to deliver high quality signaling devices for industrial use. These signaling products include lights, sound modules, and applicable accessories. Auer's durable UV- and impact-resistant polycarbonate ensures their devices hold up in industrial environments.
---
Company Information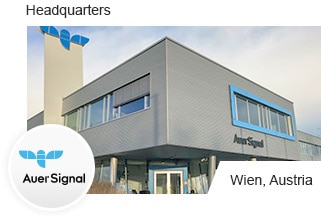 Founded in 1910 in Vienna, Auer Signal is one of the world's leading manufacturers of signaling equipment. They are present in over 70 countries today selling products planned, constructed, and tested by internal research and development teams. Many testing steps ensure the highest quality for all products to meet the Auer standard. Made in Austria, Auer Signal products stand out from competitors due to their innovative in-depth solutions and ingenious engineering. Furthermore, the management team at Auer Signal is guided by principles of continuity and quality. Their lasting relationships with their customers and partners testify to their trustworthiness and dependability.
---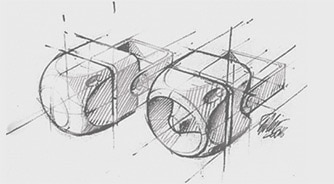 Technical Expertise Acquired Over Decades
Auer Signal sets the bar for the highest level of engineering and product quality. Starting at the planning stage and continuing all the way through production, Auer Signal products are designed and produced in-house. Auer uses modern industrial manufacturing machines and employs innovative IT solutions to regularly optimize production processes. Their signaling equipment is produced to the highest industrial quality and meets all the current industry standards. Auer uses high-quality polycarbonate featuring many advantages: it is impact-resistant, vandal-proof, temperature-resistant, color-fast, and UV-stabilized. Lenses are available in seven different colors. Well-thought-out connection technology leads to savings in time and money, and convenient connection options such as push-in or clamping yoke technology guarantee high contact reliability.
---

Louder and Brighter Since 1910
Since 1910, Auer's driving force has been the desire to use exceptional engineering ingenuity to develop superior technical equipment that is a step ahead of the rest. This desire is now stronger than ever. Although Auer is a medium-sized company, they have huge ambitions. As an owner-run family company, trust and compassion are at the heart of everything Auer does. At Auer Signal, the team is passionate about upholding the image they have created for themselves and work to the motto 'louder & brighter since 1910'.
---