SG2 PLR Smart Relay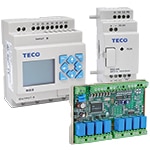 Smart Relays, also known as Programmable Logic Relays (PLRs), are similar to programmable logic controllers and replace traditional relay logic with logic that can be programmed into the device. This programmable logic also provides flexibility by allowing for easy modification based on system needs without rewiring a panel. A PLR can replace various control devices (such as traditional relays) and circuits by consolidating controls from multiple pieces of equipment.
---
Other Powerful Features
Retentive FLASH memory to safely store programs, no battery required
Real-time clock/calendar with daylight savings mode
Dual purpose analog 0-10V / DC digital inputs on DC power models
Removable memory cartridge for program backup, transferring programs to multiple PLR's, or ship updates to onsite customers
Optional "V" Series units include RS-485 Modbus port
Snap-on expansion modules allow expansion up to 56 I/O depending upon base module and expansion configuration
IP20 enclosed case (all but bareboard)
Removable spare memory cartridge option
2 channel high-speed DC inputs (1 kHz) for single channel encoder or pulse catch
PWM DC output, 1CH / 16-bit
DIN-rail or panel mount
---
"Blind" Type Modules
All the capabilities of the Full Featured module but without HMI components
Useful for applications where operator interface is not required or desired
Expandable via snap on modules
---
"Bare-board" Type Modules
Ideal for OEM applications
Lack of casing makes the bare-board modules useful for mounting inside equipment when space can be at a premium.
Non expandable
---
Digital Expansion
Add up to maximum 3 Digital Expansion Modules
Expansion powered separately to allow any mix/match combination
4 DC IN/ 4 RELAY OUT Model
4 DC IN/ 4 TRANS. OUT Model
4 AC IN/ 4 RELAY OUT Model
Analog IN
Add up to one Analog Input Module
Module adds 4 Analog Inputs
Accepts 0-10VDC or 0-20mA input signals
---
Pt100 Input
Add up to one Pt100 Temperature Input Module
4 Pt100 Inputs (3 wire)
Input Range: -148° to 1112°F (-100°C to 600°C)
Resolution: 0.18°F (0.1°C), ±1% accuracy
Analog Out
Add up to 2 Analog Output Modules
Each module adds 2 Analog Outputs
Output Range: 0-10V (load > 500Ω), 0-20mA (load < 500Ω)
Resolution: 10-bit, 2.5% accuracy
---
Flexible and Easy to Use
Simple to Use Programming software is intuitive and Easy to Learn
Program with either Ladder Logic or Function Block
Software allows complete program simulation so that you can program and test without the need to purchase hardware.
Once program is downloaded to PLR, software can be used to monitor program operation from the ladder logic, function block, or keypad views.
---
Ladder Logic
Use up to 300 lines of simple ladder logic code with 4 instructions per line
---
Function Block
Also Program using Function Blocks with up to 260 function block instructions
---
Built-in simulations allow for testing of you application before putting it to use in the field
Control all aspects of the program you have created using simulated digital and analog inputs
Use the on-screen keypad to interact with the SG2 as if you were actually using it
Monitor the current status of the SG2 when linked with the computer running the programming software
---