FMX Control Transformers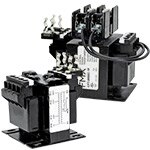 FMX Control Transformers are utilized to change one voltage to another and are typically installed within a control panel or electrical enclosure. Models are available from 45 to 5000VA. Primary voltages range from 120 to 600V with secondary voltages ranging from 24 to 240V. FMX control transformer accessories include fuse blocks, replacement fuse clips and fuses, and safety covers for fuse blocks and fuse clips.
Fuse Blocks, Safety Covers,
and more...


from $1.80